Tag'by Loyalty App – Reward your loyal customers and recruit their friends.
Our loyalty solution allows merchants to reward their customers based on their frequency of visit or amount spent. It has the unique feature to also reward their visitors when they share an offer with their friends on Facebook.
Tag'by Loyalty App can also be used for Malls: one (digital) loyalty card works for all the stores. And each store can define its own offer and reward system.
How it works?
The customer registers online to get his member ID (QR code or RFID card)
Loyalty app installed on counter tablet or waiter smartphone reads the customer ID, increment his points for each and every visit and post the offer on Facebook.
As soon as the total points reach the predefined threshold, the customer is rewarded.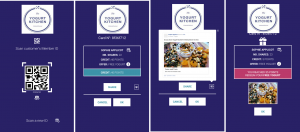 What are the benefits?
This solution increases customer loyalty and allow you to recruit new customers through social recommendation.
You can also collect data to better know your customers and their purchase habits.